Cabin 24 - King Single Internal Bunk Cabin on the Main Deck - Abrolhos Islands 5 Day Cruise - Boat out & Fly back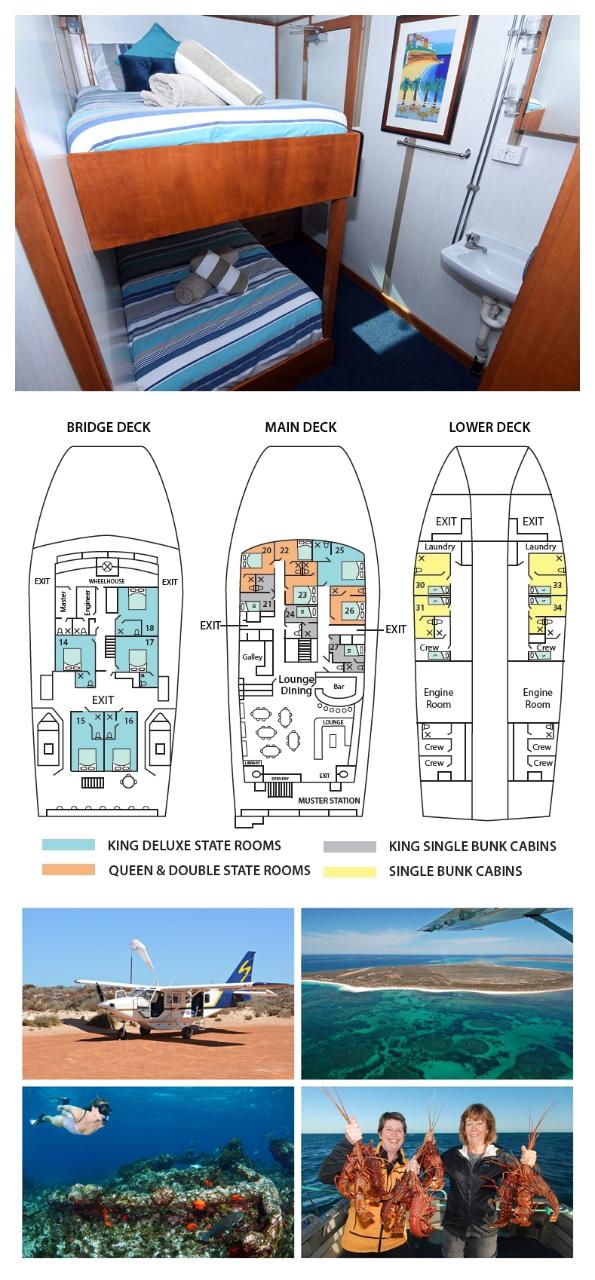 Durata: 5 Zile (aprox.)
Locatie: Geraldton
Cod produs: 24BOFB
Cabin 24 - Main Deck King Single Bunk (Internal)
King Single Bunk with 2 king single beds, ladder for top bunk, featuring a private ensuite, is fully air conditioned and cupboard.
This is an internal cabin with NO windows. Suitable for a solo traveller or somebody with limited mobility for stairs.
Explore the uniqueness of the Abrolhos Islands aboard the Eco Abrolhos on a 5 Day Tour
Our 5 Day Tour showcases the recently created Houtman Abrolhos National Park.

From sunrise to well after sunset your days will be filled with a variety of activities that take in ALL 3 Abrolhos Islands Groups.
Activities include:
• Snorkeling & Swimming
• Fishing experience
• Bird Watching
• Wildlife spotting - Sea Lions, Dolphins, Whales & Tamar Wallabies
• Crayfishing Daily (Lobster)
• Batavia History
• Glass Bottom Boating
• Island Walks with experienced Guides.
• Pearl Farm Tour (seasonal) – additional charges apply
Experience Wild Catch - fresh seafood from the Abrolhos Islands waters caught by you and prepared on board by our Chef & served to your plate. We practice responsible fishing to protect the fish stocks at the Abrolhos Islands. All seafood taken is consumed on board.
Travel Information
If you are flying into Geraldton Airport after 4pm on the day of boarding, we offer a complimentary pickup from the airport & transfer you to the Eco Abrolhos. If you are arriving earlier in the day, please stop by our office & drop off your luggage so you may enjoy your day In Geraldton.
If you are driving to Geraldton, we offer complimentary vehicle/RV parking at our fully fenced 6 Baker Street office location. The gates to our facility are locked at the close of business each day however storage is at your own risk. Last arrival at the Office is by 17:30pm otherwise there is alternative parking near the Vessel at the Port.
Check-in for your Abrolhos Islands 5 Day Cruise is at the Eco Abrolhos office - 6 Baker Street, Geraldton between 4-5pm. Once check-in is complete, we will provide a transfer down to the Wharf to board the Eco Abrolhos.
Dinner aboard the vessel in included on the first evening between 6:30pm - 7:30pm. This is usually a Pizza night.
There are 2 flight departure times from the Abrolhos Islands at the end of the cruise to cater for the group size – these are 13:00 & 15:00. Arrival is at the private Shine Aviation terminal at Geraldton airport. Transfers are provided to either the Domestic terminal for your ongoing flight OR to your accommodation in Geraldton OR back to our office to collect your stored vehicle. The flight time is approximately 35 minutes. Luggage is restricted to 15kg per person and must be in a soft sided duffel type bag ie No hard sided suitcases

Bookings for children are only available during school holidays. Please call us for pricing & options (08) 9964 5101
Please note that the deposit amount of 20% is non-refundable in the event of cancellation. We strongly recommend that you purchase Travel Insurance to cover your financial loss should you need to cancel your tour. Please see our terms & conditions for our full Cancellation Policy.
Surcharge applies to specialised tours:
• Shipwrecks & Wonders Cruise $140pp – Guest speaker covering Maritime & Natural History of the Abrolhos Islands
• WA Wine & Seafood Cruise $250pp – includes wine tasting
• 6 Day Anzac Cruise – includes Shore Leave Long Table Lunch
• 6 Day Pearls & Plates cruise – includes Long Table Lunch at Post Office Island Pearl Farm