Cabin 25 - King Bed Deluxe Stateroom on the Main Deck - Abrolhos Islands 5 Day Cruise - Fly out & Boat back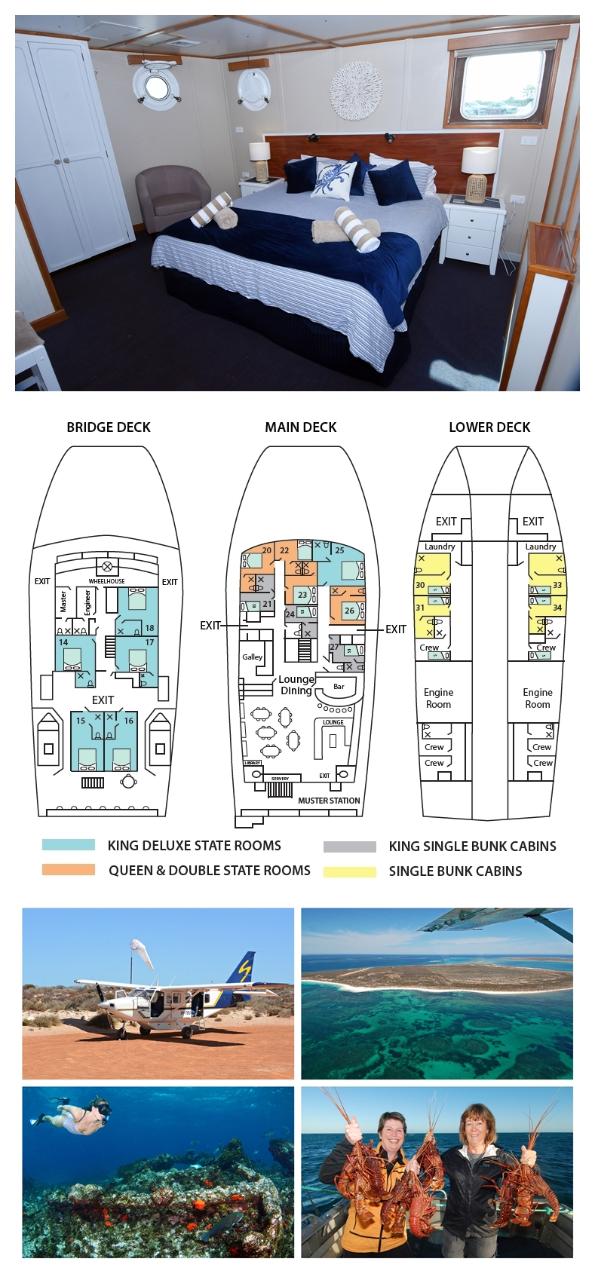 天數: 5 天 (左右)
位置: Geraldton
产品编号: 25FOBB
Explore the uniqueness of the Abrolhos Islands aboard the Eco Abrolhos on a 5 Day cruise.
Our 5 Day cruise provides an excellent cross section of what the Abrolhos Islands has to offer.
From sunrise to well after sunset your days will be filled with a variety of activities that take in ALL 3 Abrolhos Islands Groups.
Activities include:

Snorkeling & Swimming
Fishing experience
Bird Watching
Wild Life spotting - Sea Lions, Dolphins, Whales & Tamar Wallabies
Crayfishing Daily (Lobster)
Batavia History
Glass Bottom Boating
Island Walks with experienced Guides
Pearl Farm Tour (seasonal)
Enjoy fresh seafood from the Abrolhos Islands caught by you and prepared on board by our Chef. We practice responsible fishing to protect the fish stocks at the Abrolhos Islands. All seafood taken is consumed on board.
If you are flying into Geraldton Airport on a a morning flight we will meet you at the domestic terminal and transfer you to the Shine Aviation terminal.

If you are driving to Geraldton we offer complimentary vehicle storage at our 6 Baker Street office location. The gates to our facility are locked at the close of business each day however storage is at your own risk. We will advise you 48 hours prior to departure what time you will be required to arrive at the office location.
Your flight out to the Abrolhos Islands will depart at either 8am or 10am. Should you have a specific time preference please advise us when booking and we will do our best to accommodate. Eco Abrolhos offers a complimentary pickup from your accommodation or the Eco Abrolhos office to meet your allocated flight time. Checkin is 30 minutes prior to departure at the Shine Aviation terminal at Geraldton airport. Limitation on baggage is 15kg per person and must be soft sided
The Eco Abrolhos will return to Fisherman's Wharf in Geraldton around 5:30pm on Day 5.
Bookings for children are only available during school holidays. Please call us for pricing & options (08) 9964 5101.
Cruise Dates 11th February 2023 + 21st April 2023 + 24th October 2023 + 7th November 2023 + 13th November 2023 are Shipwrecks & Wonders cruises and incur an extra per person charge ( $120/2023). These cruises include an expert speaker with the focus on the History of the Islands, particularly the Batavia shipwreck, & also the natural history.

Please note that the deposit amount of 20% is non refundable in the event of cancellation. Please see our terms & conditions for our full Cancellation Policy.